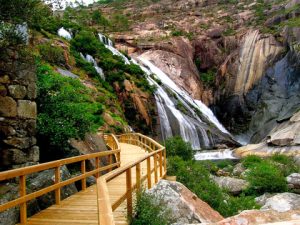 Ezaro waterfall, located in the municipality of Dumbria in the province of A Coruña, is one of the largest waterfalls in Europe.
It is formed when the river Xallas flows into the sea with a spectacular fall (150 metre high), 40 metres balance. It is set amidst a wind-swept rocky landscape within close proximity to the Atlantic Ocean, which it joins as a small scale estuary. You should also notice there are calm beaches full of bright white sand, very friendly for families under good weather.
The Xallas is the only river in Europe that flows into the sea as a waterfall and there is a reservoir nearby used for generating power. When it opens its gates the flow increases spectacularly and it is a unique sight worth watching.
Next to it we find Mount Pindo, full of legendary stories related to magic rituals and prehistoric tales. This is a highly recommended visit.